​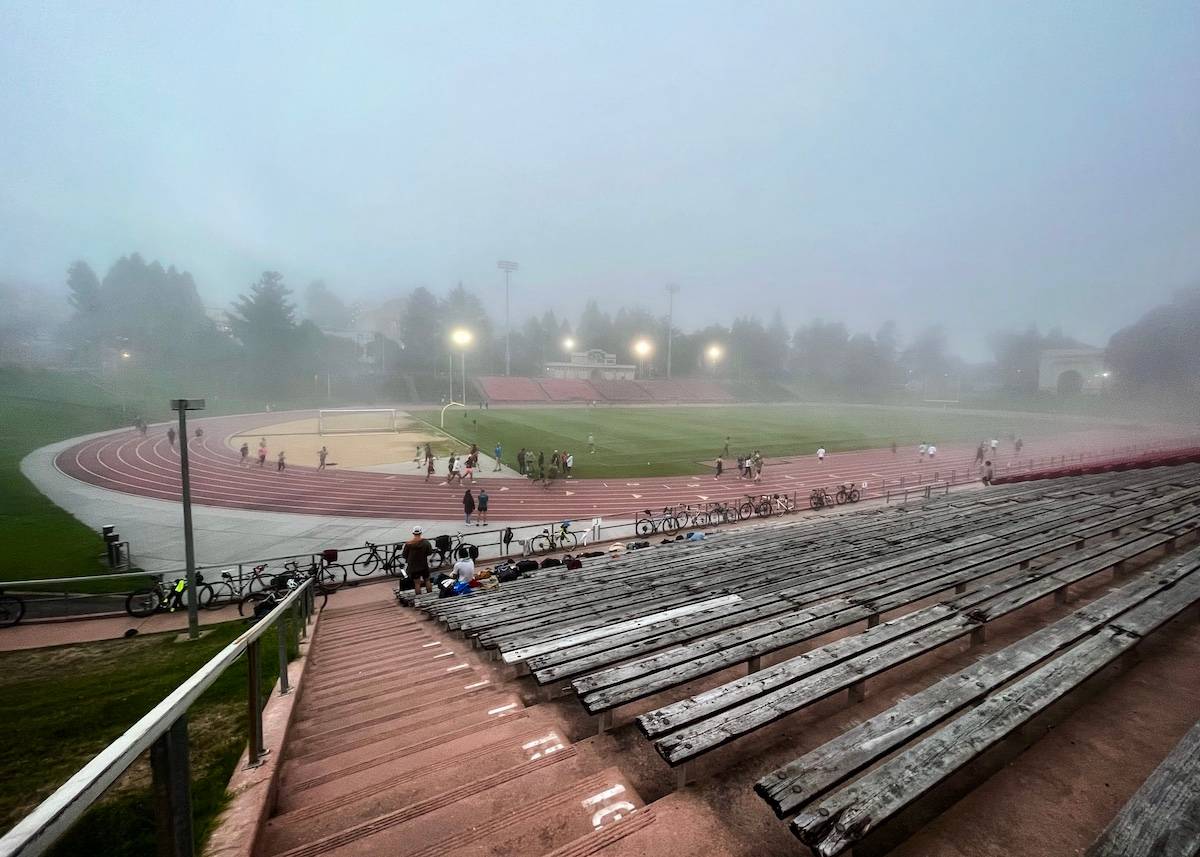 Good morning! I'm in the thick of racing season for the athletes I coach, not to mention a major renovation on the homefront, so my usual reading/listening/watching/reflection/writing time has gone by the wayside this past week. What follows here is a punchier-than-usual version of the newsletter, packed with as much goodness as I could fit into it. Let's dive right in.
Quick Splits
— I've written about Markelle Taylor here a couple times over the years and I'm excited to share that 26.2 to Life: Inside San Quentin Prison Marathon, a documentary telling the story of incarcerated men who are members of the 1000 Mile Club at San Quentin State Prison, is showing at select theaters across the country for a few more days still. You can watch the trailer and get info on showtimes here. I'm hopeful that the film will be released more widely soon because this is a story more people need to know about. The award-winning film humanizes a group of men who are defined by more than the horrible crimes they committed, men who are trying to find meaning, purpose, redemption, support, and community through running—all within the confines of San Quentin's walls.
— I was already a fan of Yared Nuguse, but it's hard not to like him even more when you find out he spends his off-season spectating JV cross country meets at his former high school.
— The road mile is a new attraction at the world championship level and it was fun as hell to watch American Hobbs Kessler pull off the win over the weekend in Latvia. Here's his final 300m. Kessler positioned himself well coming into the last 100m which involved navigating the base of a massive concrete statue in the middle of the road. If you weren't in pole position at that point it was going to be really hard to win the race and the 20-year-old timed his kick beautifully. (His 3:56.13 is technically the world record—also a new thing for this event.)
— Eliud Kipchoge and Tigist Assefa riling up the crowd in a Berlin nightclub after winning that city's marathon earlier in the day two Sundays ago is the visual I didn't know I needed this week.
— Some of this is showing my age (again), and part of it is tying back to a theme about friendship that I wrote about in last week's newsletter, but the title track from Blink-182's new album, "One More Time" is my jam right now. The song explores why it often takes tragedy to bring people (back) together, recalling the band's own history while also punching the rest of us right in the gut.
— Ciara Mageean of Ireland finished fourth in the 1500m at this year's world championships and gave one of the best damn post-race interviews I've ever seen, admitting she was disappointed, but also proud of how she competed, and grateful for everyone in her corner who helped her get there. Incredible perspective in an especially emotional moment.
— One of the things I'm enjoying most about Instagram since reactivating my account a few weeks ago is Tommy Rivs' daily hand-written stream-of-consciousness journal entries. Every single one of them is raw, honest, sobering, interesting, inspiring, and insightful. (n.b. They pair well with the podcast we recorded a little over a year ago.)
— From the archives (Issue 151, 5 years ago this week): The Marathon Doesn't Owe You Anything: We're in the thick of marathon season right now and this piece from Peter Bromka (n.b. it's free to read, but now requires creating a Medium account) is essential reading this time of year if you've got 26.2 on the docket. "The marathon doesn't owe you anything," writes Bromka, "which makes it the perfect vessel in which to pour your everything." (I also appreciate a good Frou Frou reference—see if you can spot it in the piece.)
— A big thank you to Tracksmith for supporting my work this month (and throughout 2023). We're coming into shoulder season and fall will be in full swing before we know it, which means I get to break out the Brighton Base Layer most days of the week. I've got this shirt in both short and long sleeve options and they work in a variety of situations. The short sleeve, in particular, is the perfect transition piece from summer to fall. It's made from a merino wool blend, it wicks moisture and regulates temperature well, but best of all: it doesn't smell when I sweat in it! I'll wear it on its own but also under a light jacket if it's cool enough. If you buy the Brighton Base Layer, or anything on Tracksmith.com for that matter, and you're doing so for the first time, use the code MarioNEW to save $15 on your order of $75 or more. If you're already a Tracksmith customer, use the code MarioGIVE and you can get free shipping on your next order (and 5% of your purchase will go to support the Friendly House in Worcester, Massachusetts, an organization that is near and dear to me).
Training Tip: Work the uphills!
One of my favorite running quotes of all-time comes from the great Frank Shorter, two-time Olympic medalist in the marathon who won gold in 1972. He said, "Hills are speedwork in disguise," and he couldn't be more on the money with that line. Early in a training block or in the base phase of training, when we're not getting too specific with workouts yet (or in some cases, not doing any workouts at all), I'll encourage my athletes to run on hillier than usual routes 2-3 times a week and work the uphills at a challenging but not all-out effort while keeping everything else really relaxed and comfortable (i.e., essentially a hilly fartlek.) Why? Doing so will help smooth out your running form, engage more of your lower leg muscles, and improve general power, all of which will translate to better efficiency and output when it comes time to run fast on flat(ter) ground. In fact, I've had many athletes get pretty fit and run pretty fast off this kind of work, while keeping the actual velocity and overall toll on the body relatively low (this is what Shorter meant by it being "speedwork in disguise.")
Workout of the Week: Two-Minute Reps
Not every workout will leave you hunched over with your hands on your knees afterward—in fact, most of them shouldn't—but every once in a while you just need to go out and make yourself as uncomfortable as possible. A simple set of hard two-minute reps is one of my favorite sessions for achieving that very end. Here are the details.
---
---
The bottom line.
"Oh, how uncertain everything is. And yet part of the order."
—Clarice Lispector, Brazilian novelist
---
That's it for Issue 412. Please forward this email or share the web link with someone who might enjoy it. (And if you're seeing this newsletter for the first time and want to receive it for yourself first thing every Tuesday morning, you can subscribe right here.)
Thanks for reading,
Mario
​Join our community on Patreon and help keep the morning shakeout sustainable! For as little as a buck a week, you'll gain access to occasional exclusive content and other perks that pop up from time to time.
---