​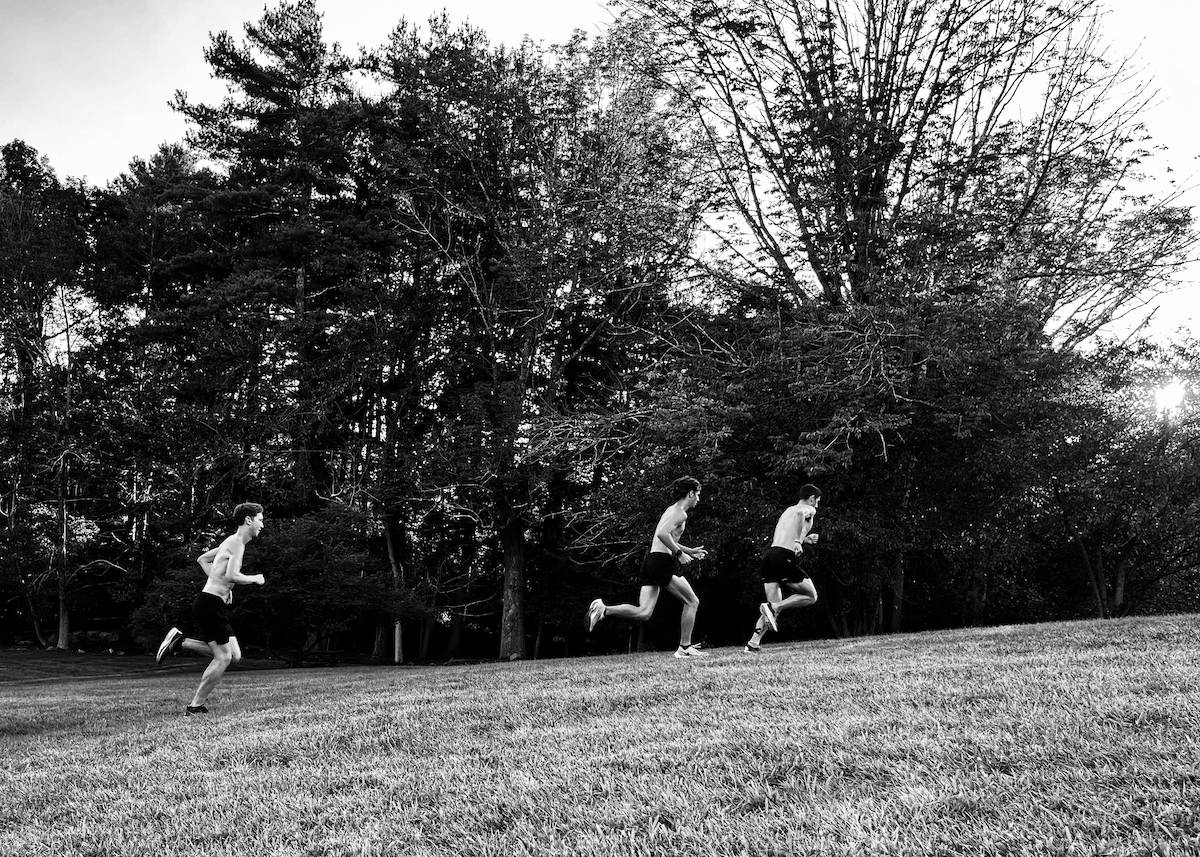 Good morning! I'm excited to kick off this week's newsletter by sharing a couple conversations I've had recently that left a profound impact on me. The first is with Don Swartz, who coaches my wife's Masters swimming program at North Bay Aquatics in Marin County, California, and is someone I respect, admire, and try to emulate in my own life. Don was inducted into the American Swimming Coaches Association Hall of Fame in 2013, he coached several swimmers to Olympic, World Championship and Pan-American teams in the early-to-mid 1970s, not to mention a handful of world records (including Rick Demont in the 400m freestyle when he became the first person in history to break 4 minutes in the event), and he's widely credited with revolutionizing modern-day swim training with the introduction and implementation of cycle training (i.e. alternating hard days with easy days) in the early 1970s. At 77 years old Don is still on the deck, coaching both youth and Masters athletes at North Bay, and he's beloved by his athletes and fellow coaches alike. I recently sat down with Don for a couple hours at his kitchen table to talk about his coaching journey, how he approaches working with swimmers despite never having been a competitive swimmer himself, founding the Creative Performance Institute in the 1970s and teaching the mental side of sport to coaches, athletes, and others, how he stays sharp, what keeps him going, and a lot more. This episode of the podcast is the second installment of the Coach-to-Coach series and it's an instant all-timer (it's got some Frank Gagliano vibes to it), full of amazing stories, anecdotes, and practical applications for coaches, leaders, and community builders across a wide range of domains, and I hope you'll listen to it wherever you get the morning shakeout podcast or at this handy link.
After you're done listening to Don and I talk coaching, check out this transcribed exchange I had with Christine Yu, an award-winning journalist and author of Up to Speed, a new book that I would describe as a comprehensive guidebook that dispels false narratives around women in sport, dissects the latest research into women's sports science and performance, and advocates for more and better research to improve the future experiences of active and athletic women across the age and identity spectrum. As a male coach of several female athletes I found this book to be an essential guide for understanding and navigating issues I'll never experience, experiences I'll never have, and differences that aren't always obvious. It also opened my eyes to just how badly sports science research has failed women until very recently and also how systemic injustices have marginalized and excluded girls and women at all levels of sport. Why is this the case? "I think overall it's just that we don't care about women's sports or women's issues as much as we do men's," Christine explained to me. "And I think particularly when you're talking about sports, we don't care about it to the same extent as men, or give it as much attention, or even if you look at just allocation of resources. We saw a couple of years ago with the NCAA basketball tournament and the differences in the facilities and resources provided to the athletes. It was a good example of where this discrepancy happens that we don't even think about it." In this conversation, Christine and I talked about how the response to the book has been since it was published in May, what surprised her most while she was reporting on it, how to accelerate sports science research for women, where systemic change needs to start, the challenges of writing about sex and gender, and a lot more. This one is read-only and you can check it out right here on themorningshakeout.com.
Quick Splits
— The Berlin Marathon came and went while I slept on Sunday morning and when I woke up to check the headlines I had to do a double take to make sure that I wasn't looking at an article on Mark Remy's satirical running website, dumbrunner.com (which is great, by the way). "Tigst Assefa Obliterates Women's Marathon World Record with 2:11:53 in Berlin," is what I read on the letsrun.com homepage. The Ethiopian Assefa, who won Berlin last year in 2:15:37, took over two minutes off Kenyan Brigid Kosgei's world record, running half splits of 66:20 and 65:33. How does that happen? Is Assefa a once-in-a-lifetime talent? Is she training unlike anyone has ever trained before? Is she doping? These are all fair questions to ask and I, for one, don't know the answers right now (nor do most people, if we're being honest). I do know, however, that Assefa hit fast forward on the record books and put up one of the most impressive distance running performances in history. It was Beamon-esque in its wowness factor, and while I don't think it will last for over 20 years like Beamon's mark did, I'm fairly confident that 2:11s aren't likely to be the norm in women's marathoning anytime soon. (Now watch Ruth Chepngetich go out and run 2:10-something a couple weekends from now in Chicago. Something about boats and rising tides in Lake Michigan. I don't know anymore.)
— I spent this past weekend in Maine with a few of my closest friends, guys I've known for over 20 years, guys, who, despite distance and the busyness of our respective lives, have been there for one another through it all. These friendships are the most important thing in my life alongside my marriage, my family, and my health, and I'm incredibly grateful we've remained close for over half our lives at this point. Coincidentally enough I read this column about friendship from David French after I left on Sunday and it hit me right in the chest. "Stay together, I said," French writes. "It's going to get hard. Your kids are young. Your careers are just starting to take off. But stay together. Be there, even when it's hard. Even when it's inconvenient. After I got off the call, I kicked myself for not remembering a quote by C.S. Lewis: 'Friendship is unnecessary,' he wrote, 'like philosophy, like art, like the universe itself (for God did not need to create). It has no survival value; rather it is one of those things which give value to survival.'"
— Cyclist-turned-runner Andy Waterman wrote a short piece on what amateur runners can learn from multisport athletes and I agree with what he had to say, in particular about intensity management and eating to compete. I see real shifts starting to happen for the better in both of these areas as more amateur runners continue to "get it," learning that going too hard, too often while not eating enough is not something you can get away with for very long before it bites you in the ass. "We worry way too much about weight in running, and way too little about metabolic performance," he writes. "In a flat marathon, a kilo here or there will make very little difference, but the ability to burn more calories than your competitors will. If anything, seeing Kristian Blummenfelt dominate triathlon at all distances over recent years has been an inspiration to me and should be to most amateur runners."
— I've long been a fan of Maria Popova's site The Marginalian (formerly Brain Pickings) and this post about F. Scott Fitzgerald's secret to great writing—told through a couple letters he sent to his friend's daughter and his own daughter, respectively—is a short, blunt, but inspiring read for anyone who wants to do great work. "Don't be a bit discouraged about your story not being tops," he writes to his daughter Scottie. "At the same time, I am not going to encourage you about it, because, after all, if you want to get into the big time, you have to have your own fences to jump and learn from experience. Nobody ever became a writer just by wanting to be one."
— In her latest column for iRunFar, Sabrina Little looks at the good and the bad of social media and running. This was a timely one for me shortly after reactivating my Instagram account. One of the things she mentioned for people to keep in mind is to investigate expertise, which is great counsel. It's wild to me how much "influence" and "authority" someone suddenly seems to have based on little more than their follower count. (For what it's worth, this extends far beyond the realm of running.) "A large follower count can mean any number of things — charisma, good looks, subsidized follower counts, or connections," she writes. "It does not mean that the things they teach about sport, health, or life are worthwhile or true." Amen, Sabrina. I don't care much at all about the size of my follower count on Instagram, but I do care a lot about putting good information and honest advice in front of people who could use and benefit from it—the main reason I brought my account back is to try and combat a lot of the bullshit training advice that has proliferated the platform. (This may be a losing battle but the only way to have a shot at winning is to put yourself on the field.)
— One of my sister's favorite bands growing up was the Smashing Pumpkins. I didn't appreciate their music that much as an 11-year-old older brother but grew to love it years later, first "Today" and "Disarm" off Siamese Dream, nearly the entire Mellon Collie and the Infinite Sadness shortly after that, Zeitgeist, etc. Well, Billy Corgan and crew recently played a "Siamese Dream 30th Anniversary Party" at Tower Records in Chicago and they sounded really f*cking good. (Fun fact: Corgan got married to his longtime partner Chloe Mendel the day before the gig.)
— A big thank you to my partners at New Balance for supporting the newsletter this month (and my work throughout 2023). It's not available for purchase yet but I've been putting some miles on the soon-to-be released Fresh Foam X 1080v13 over the past few weeks and I'm happy to report that my go-to trainer continues to get better year in and year out. The v13 feels a little lighter than its predecessor, there seems to be a bit more bounce underfoot, and it fits better than anything else in my lineup. It's super smooth at a wide range of speeds and will continue to be my go-to for most of my weekly mileage. The 1080 has long been the workhorse of my shoe stable and the v13 has already proven capable of handling whatever I want to throw at it. The Fresh Foam X 1080v13 will be available at your favorite run specialty retail store next month and on newbalance.com.
Training Tip: Stop a rep short!
If you want to be a faster runner you have to do hard workouts from time to time—there's no way around it. One of the biggest mistakes many runners make, however, is that they go to the well too often, thinking they need to finish their hard sessions with nothing left in the tank. As driven athletes it's tempting to push harder or do more, which usually happens out of insecurity. More often than not, however, doing so leads to stagnation, burnout, or injury. The key to staying healthy, training consistently, and getting faster is to finish 95 percent of your key workouts knowing you could do another rep or two at that same pace, or go for another couple miles without slowing down. That's a sign that you're practicing patience and discipline, working hard but staying within yourself, and developing the fitness and confidence you need to get faster and achieve your goals.
Workout of the Week: The 3 x 3 Cutdown
We're in the midst of marathon season which means the long run takes on an extra level of importance if you're training to race 26.2 miles. The 3 x 3 Cutdown is one of my favorite go-to long runs to help develop the specific fitness and skills necessary to succeed on race day. Here are the details.
---
---
The bottom line.
"The most sincere compliment we can pay is attention."
—Walter Anderson, American painter and writer
---
That's it for Issue 411. Forward this email, share the web link, or reply to me directly at your own risk. (And if you're seeing this newsletter for the first time and want to receive it for yourself first thing every Tuesday morning, you can subscribe right here.)
Thanks for reading,
Mario
​Join our community on Patreon and help keep the morning shakeout sustainable! For as little as a buck a week, you'll gain access to occasional exclusive content and other perks that pop up from time to time.
---