​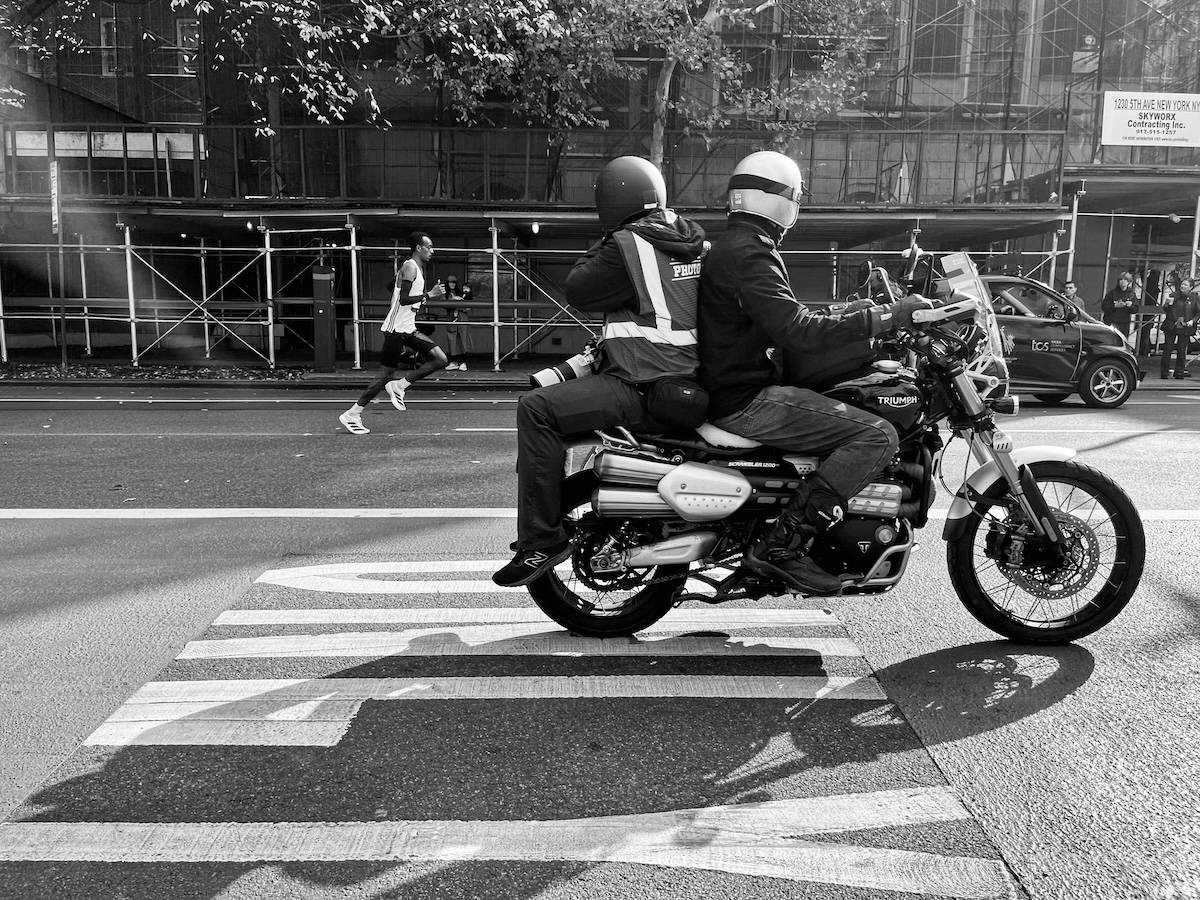 Good morning! This week's issue is coming to you from somewhere over the middle of the country. It's Sunday night as I write this and it's my hope that I can string enough words together on this six-hour flight to take Monday off from work and recover from what was an exciting and exhausting weekend in New York City (and I didn't even race!). I've attended that city's marathon in one form or another at least 10 times now and every experience seems to be a little more electric than the one before it. Maybe that's actually true or maybe that's the social media hype machine or maybe I'm just getting really old but the number of shakeouts, panels, parties, podcasts, pop-ups, and more is overwhelming if not borderline out of control. If you wanted to (and some people did!), you could have filled your schedule with a new marathon-related or marathon-adjacent activity every hour from 8 AM to 8 PM on Friday and Saturday. Energizing for some, over-stimulating for others, but ultimately up to the individual to decide what they want their race weekend experience to be. That said, it is pretty incredible to see what some of these major events have become over the last 10 years—they're much, much more than a running race—and I'm super curious to see how they evolve over the next decade. Every brand in the running space seems to be trying to out-activate each other and I wonder if that trend will continue to intensify or if things eventually settle down a bit and new initiatives emerge. I honestly have no idea.
Anyway, there's nothing quite like the New York City Marathon. It's always special to be a part of that energy even when I don't have a bib pinned to my chest. It is something else to witness tens of thousands of people, each of them with their own unique path to the start line in Staten Island, stream past you while all trying to get to the same finish line in Central Park. And nearly every inch of the way they're surrounded by strangers on both sides of the road, selflessly encouraging them to keep pushing, to not quit, to keep going, to finish. On the first Sunday of November in New York, the best of humanity is on display. It's a beautiful scene to behold. I think my friend Tommy Rivs summed it up best in his post-race Instagram reflection on Sunday night: "I'm reminded again and again that we are good," he writes. "At times it feels embarrassing to be a human being and I feel disappointed in myself and the things I see us collectively do. I often think the other animals must find us so perplexing - the clothed apes who destroy the earth and kill each other mercilessly over our loyalties to the certitudes we profess and our refusal to share the abundance we've acquired. I often think of what a shameful lot we are. And yet today as I had the chance to join you all in the streets of this beautiful, yet mysterious place, I was filled with joy and pride for being a human being. We are good and at times great. It seems to be most evident in the times that we share our humanity and love each other despite our shortcomings."
And with that, let's try to treat every day like it's marathon day: give it your best effort, help bring out the best in those around you, and enthusiastically encourage everyone along in their journey.
Quick Splits
— If you were to ask me the first word that comes to mind when I hear the name Hellen Obiri it would be: RACER. This woman loves to compete. Watch her battle with Letesenbet Gidey and Sharon Lokedi over the final mile on Sunday in Central Park before turning the screws one last time with about 300 meters to go. (Side note: Lokedi had been dropped by that point and I can't for the life of me figure out why Gidey was messing around with her shorts and chain with less than a minute to run.) It was Obiri's second major win this year and despite the fact she doesn't have a "fast" marathon to her name (yet), she's my early pick to win next summer's Olympic marathon should she be named to Kenya's team. (There's no reason why she shouldn't be a shoo-in, but Athletics Kenya doesn't have a reputation for always making sensible decisions.)
— At the 30K mark of the New York City Marathon on Sunday the women's lead pack ran past me in a big bunch. Eleven were still in contention. They weren't exactly jogging but it was clear that no decisive moves had been made yet. In contrast, and what felt like just a few minutes later (those feelings were later confirmed, it was less than 5 minutes), the lead men's truck appeared in the distance. Ethiopians Tamirat Tola and Jemal Yimer ran by with no one else in sight. Behind them, runners went past us one by one, healthy enough gaps between them all. The racing had started early and these guys were clearly on one. Tola eventually pulled away and broke the tape in a new course-record of 2:04:57. In a world-record year a performance like this one can be easy to overlook or under-value but what we saw from Tola on Sunday in New York was really, really special.
— A big thank you to my partners at New Balance for supporting the newsletter this month (and my work throughout 2023). I took one pair of running shoes with me to NYC over the weekend and it was the Fresh Foam X 1080v13 (aka the official unofficial shoe of the morning shakeout). The 1080 has been the workhorse in my rotation for four years now and the v13 picks up right where its predecessors left off. This updated version feels a little lighter than its predecessor, there seems to be a bit more bounce underfoot, and it fits better than anything else in my lineup. It's super smooth at a wide range of speeds and continues to be my go-to for most of my weekly mileage. Bottom line: I just really enjoy running in it. The Fresh Foam X 1080v13 is available now at your favorite run specialty retail store and also on newbalance.com (men's sizes here, women's sizes here).
— I knew Isaac Updike was very good at the steeplechase. That was about the extent of my knowledge of him until I read this first-person piece he wrote for Kyle Merber's The Lap Count newsletter last week. Not only did I find out that he grew up in Alaska and ran collegiately in the NAIA, but I also developed a respect for the way he learned to love the sport and how he still approaches it to this day. Count me as a new fan! "Running is still about community and connection," he writes. "And clearly I run to see how far I can push myself and find what my athletic peak is—but that wasn't why I started. I don't feel like I carry the same weight of expectations as others in this sport. I have big ambitions, but I won't fixate if on the day, things don't go to plan. I can learn, move on, and be ready for another day."
— From the archives (Issue 52, 7 years ago this week): Those of you who have been reading for a while know that I'm a process person. I often tell my athletes to "set it and forget it" in regard to the big exciting end goals everyone likes to obsess over and focus instead on consistently checking off the less sexy process goals that will put them in the best possible position to achieve continued success. It's all about committing to the long game. Along these lines, writer James Clear recently outlined three reasons to focus on systems instead of goals that is worth digesting. "I've found that goals are good for planning your progress and systems are good for actually making progress," writes Clear. "Goals can provide direction and even push you forward in the short-term, but eventually a well-designed system will always win."
— Ted Gioia is a legendary jazz critic and music historian whose work I've been reading for a long time. His writing, which is mostly focused on music but spans a range of topics including media, culture, philosophy, and books, is opinionated, engaging, and easy to read. In this recent edition of his excellent newsletter, The Honest Broker, he wrote about his 12 favorite problems (based on a practice developed by the physicist Richard Feynman) and explained how asking himself the same questions over and over and over again keeps him on his toes, inspires his creativity, and helps him make better decisions in his work and his life. It's great, full of experienced insights, and has inspired me to come up with my own list of problems to regularly work on and guide me in my own pursuits. (I'll share them here once I nail down a working list.) "This [asking how music can change people's lives] is a perfect example of Feynman's thesis—just identifying the problem was absolutely decisive," he writes. "It gave me a sense of mission, and growing confidence in how I pursued my vocation."
— On the topic of music, my Apple Music station recently introduced me to the band Caamp and I haven't been able to get enough. (They kind of remind me of The Lumineers mashed up with Noah Kahan.) Caamp's music is generally pretty slow and contemplative. The lyrics are deep and span the full spectrum of emotions. My favorite track right now is called "Strawberries" and I like it because it makes me think of my wife. Here's a live version I found on YouTube that's really good.
Training Tip: Practice running slow.
At first glance this tip seems counterintuitive. I mean, how hard could it be to run slow? It comes naturally to all of us, right? Wrong! Turns out it's very hard for a lot of runners to do well. Running at a truly slow (for you) pace often feels awkward and unproductive, which is why many runners shy away from it. Running slow, however, has long proven to be an effective way to run longer while also serving as a restorative form of movement that enhances your ability to recover from harder workouts. And just like running fast, it takes practice to do it well—running slow is not an invitation (or an excuse) to run with sloppy mechanics! That's only going to increase the likelihood of injury and/or something else going awry. When trying to slow down your pace, here are a few key points to keep in mind: 1. Stay tall. Avoid leaning too far forward or backward. This will help ensure you have good alignment while also maintaining a healthy tension through the torso, hips, and glutes. 2. Shorten your stride. Overstriding, especially at slower paces, often leads to sloppy form. When running slow, shorten your stride a bit and try to keep your cadence clicking over a comfortably quick rate so your feet aren't spending too much extra time on the ground. 3. Be gentle. When you're running slow, you don't need to apply as much force into the ground. Be intentional about landing with a light midfoot strike under your center of gravity and not pushing off with too much oomph. 4. KEEP PRACTICING 1-3 until you get better at it.
Workout of the Week: The 4 x 4
Seeing a handful of mid-range repeats at a hard effort on the training schedule is the type of workout that will keep some runners up at night—and for good reason! The hard truth is these types of sessions really sting and you can't fake your way through 'em. (n.b. This was me in college when we had repeat Ks or 1200s on tap!) If you're doing them right, they'll set your legs and lungs on fire, make you breathe rather erratically, and leave you bent over with your hands on your knees when you're finished. (If this sounds terrible, the good news is you don't have to do this type of workout more than once a week, or even every other week, to reap the benefits.) The 4 x 4 is a simple and straightforward workout that will launch your fitness to a new level, but you will have to earn it. Here are the details.
---
---
The bottom line.
"Doubt kills more dreams than failure ever will."
—Suzy Kassem, poet and artist
---
That's it for Issue 417. If you're enjoying the newsletter, please forward this email to someone who might also enjoy it and/or share the web link far and wide. (And if you're seeing this newsletter for the first time and want to receive it for yourself first thing every Tuesday morning, you can subscribe right here.)
Thanks for reading,
Mario
P.S. I'm going to record the last Ask Mario Anything podcast of the year in the next few weeks. Got a question for me about running, training, writing, podcasting, a previous episode—anything, really!—please submit it here. If I answer your question on the show I'll send you a small token of my appreciation from the morning shakeout's annual partners.
​
​
​Join our community on Patreon and help keep the morning shakeout sustainable! For as little as a buck a week, you'll gain access to occasional exclusive content and other perks that pop up from time to time.
---