​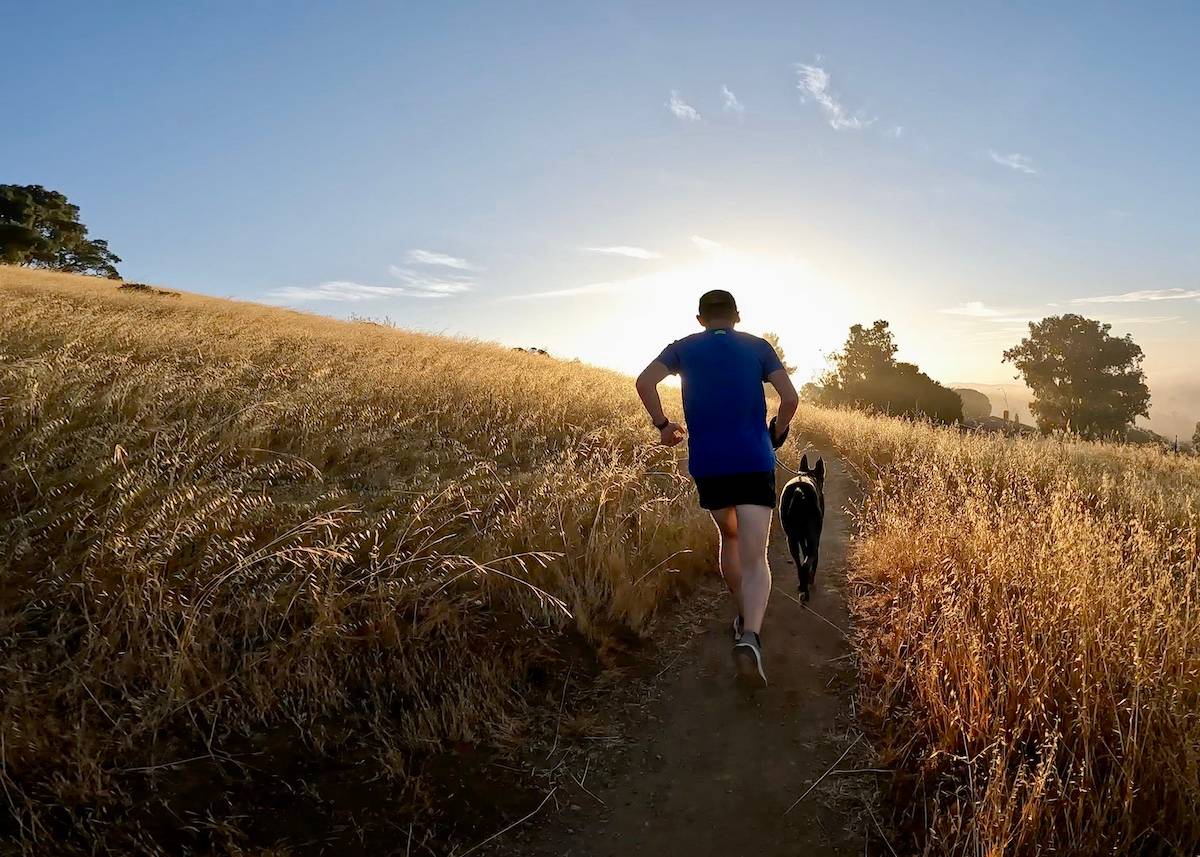 Good morning! One of the best and most unexpected benefits of writing the morning shakeout for the past eight years is the connections that it's brought into my life. Email is personal and intimate. You have to subscribe to get the newsletter and what ends up in your inbox every Tuesday morning comes directly from me. You can hit reply and I will (eventually) write back to you. It's an asynchronous one-to-one relationship, which, as an introvert, is my preferred way of interacting with people. As a result I've had some amazing exchanges, some of them one-off, others of them ongoing for years now. One of those long-running conversations, no pun intended, has been with Jennifer Baskerville-Burrows. She first responded to one of these emails in 2016. In early 2021 she wrote to me again, and not only did I remember her name from the email she sent me years before, I had just read a submission from her in Like the Wind magazine. Since then, we've gone back and forth quite a bit about various topics and just a few months ago we had a great conversation on the phone about her upcoming sabbatical, during which she was planning to visit various running clubs and crews to understand how identity and belonging are created and sustained in those spaces. Before I go any further, one thing you should know about Jennifer is that in addition to being a dedicated runner and fan of the sport, she's also the Bishop of the Episcopal Diocese of Indianapolis (and signs many of her emails "A missive on the move from Bishop JBB," which led me to nickname her "the Running Bishop"), and I've always appreciated her perspective on running, the industry, and this beautiful and messy path we're all navigating called life. Anyway, as I was planning out this fall's podcast lineup recently I wondered if Jennifer might be up for talking to me about all of this and what she experienced on her sabbatical, so I asked her, she said yes, and the result is this week's episode of the podcast, which you can find wherever you listen to the morning shakeout podcast or at this handy link. This is actually the first of what will be a two-part conversation. In this one, we set the table: Get to know Jennifer a little bit, learn more about her paths to becoming a runner and a member of the clergy, and hear us talk about running, community, belonging and the various ways those things all intersect and interact with one another. I'm biased but I think it's one of the best and most important conversations I've had in the six years I've been doing the podcast and I hope everyone who listens feels the same way too. It left me excited for part two, which we'll record in the next few months and I'll release in November sometime. In that one, we'll talk specifically about the crews and clubs Jennifer visited with, who she met, what she experienced, and what she took away from it all. Until then, snack on the Quick Splits and more that I've served up below, and stay tuned for a few more podcasts, which will come out at a frequency of every second or third week for the next few months.
Quick Splits
— Overload training, or packing a lot of hard training with minimal recovery into a relatively short period of time, has been shown to work effectively for some athletes. But like any form of training, it has its risks, which for runners include overuse injury, sleep disturbances, illness or upper respiratory infection from reduced immunity, and more. This recent Outside article from Ian McMahan does a nice job explaining how to walk the line between functional and non-functional overreaching, which is key to utilizing this technique properly. In my experience, overload training should only be utilized by veteran athletes who have been stuck on a prolonged plateau and could benefit from a novel stimulus. Also, it's my belief that an overload training block, where volume and/or intensity are increased by 20-30 percent, should max out at three days in a row and be followed by just as many recovery days so the athlete can recover and absorb that work.) I know some coaches that prescribe longer blocks, and the aforementioned article explains how to go about doing that, but in my experience most coaches and athletes under-estimate the overall stress-load and under-recover as a result. If you can't build in the right amount of rest and recovery to balance out the increased stress of overload training, you shouldn't do it. Remember: You're not as good as the training you do—you're only as good as you recover from it.
— On that note, I recently came across this article from the fine folks over at Fast Talk Labs that takes a look at various techniques that influence recovery, in particular those that have the biggest effect on protecting the main character that governs it all: our brains. It's a great read that dives deep into the research but can essentially be summed up with one line from Dr. Andrew Peterson, the director of sports medicine at the University of Iowa (who had a hand in some of the research). "I think a lot of real recovery is about what you eat every day, and the sleep that you're getting," he says.
— "It was a journey in developing trust." This is more of a dispatch than the "interview" it's advertised as (and it's just kind of hard to follow if I'm being honest), but the throughline is the importance of trust in the coach-athlete relationship, using the 22-year partnership of coach Patrick Sang and Eliud Kipchoge as the example. Quick read with some inspiring sound bites contained therein.
— If I could use two words to describe myself I'd say: lazy and disciplined. At first glance that probably makes no sense at all but this post, in particular the insights from writer Hanif Abdurraqib, does a better job explaining what I mean by this contradiction than anything I could ever come up with on my own. "I can be in opposition to my inherent laziness, and build a discipline around, not even the work of writing, but the work of joyful extraction," he says. "And to present it like that, and to put it like that, offers me a better runway to it. And I cannot stay in bed, because I would much rather be in pursuit of some revelation that might arrive to me in the process of doing this work. So that's how I act in opposition to my own laziness."
— Hat tip to my right-hand man Chris Douglas for introducing me to the This Little Light podcast hosted by Flea of the Red Hot Chili Peppers (available wherever you listen to podcasts or at this handy YouTube link). On the show, Flea talks to his guests about falling in love with music, what their musical education looked like, and the creative process in general. My favorite episodes so far are with the producer Rick Rubin, who the RHCP have collaborated with multiple times, Jewel, who Flea met randomly 30 years ago and considers a little sister, and Anthony Kiedis, the lead singer of the band and Flea's creative partner of nearly 45 years. What I love about these three conversations in particular is that it's obvious from the first exchange of words just how deep of a relationship Flea shares with each of his guests. I also appreciate the genuine curiosity with which Flea approaches each one, and, because of the trust that's been built up over the years, just how open and vulnerable his guests are with him. Early on in the episode with Jewel she talks about her relationship with pain, saying she wanted to "be the buffalo," because it's "the only animal that moves into the heart of a storm." Her mottos became "you can't out-run pain" and "be the buffalo" and telling herself those things are what sparked her creative journey at a young age. Just incredible honesty and insight. Fast-forwarding to the episode with Kiedis, he and Flea talk about staying on top of their game and continuing to perform at a high level as they enter their 60s. Kiedis has been working with a voice coach for several years now in an effort to take care of his most important asset, his voice box, saying, "If you're going to do something long enough, I've got to figure out how to take care of the instrument." As an aging runner who hopes to be doing what he loves for at least another four decades—heck, as someone who just wants to live well for at least another four decades!—this line in particular was a timely reminder that really resonated with me.
— After listening to the aforementioned podcast episode with Anthony Kiedis, I went down a RHCP rabbit hole and discovered this acoustic set from the Silverlake Observatory five years ago. It's a great 10-song set and probably my favorite version of "Californication" (beginning 42 minutes in) that I've ever heard.
— A big thank you to my longtime partner Tracksmith for supporting the newsletter this month (and my work throughout 2023). Next Thursday, August 24, I'm planning to race the Tracksmith Twilight 5000 in Oakland and I hope to see you there! I'm using this race as a summer fitness-check ahead of the fall cross-country season. Whether you're trying to lower your 5K personal best, building up for a fall marathon, racing cross-country, or just looking for an opportunity to test yourself in an exciting environment, these races bring out the best of the running community: competition, camaraderie, and fast times under the lights, no matter what pace you're trying to run. You can find the full 18-city schedule here. Also, if you buy anything on Tracksmith.com, and you're doing so for the first time, use the code MarioNEW to save $15 on your order of $75 or more. If you're already a Tracksmith customer, use the code MarioGIVE and you can get free shipping on your next order (and 5% of your purchase will go to support the Friendly House in Worcester, Massachusetts, an organization that is near and dear to me).
Training Tip: Just slow down!
One of the biggest things holding back most competitive amateur age-group athletes is that they're running too fast most of the time: workouts as well as easy days. When in doubt, slow it down a bit! Backing off the effort on easy days, as well as within many of your key workouts, will help you achieve a few ends: 1. You'll be able to run more. The slower you run, the more running you can do. As I wrote last week, many runners, especially newer ones, will see performance improvements from increasing their overall training volume. Pretty simple. 2. You'll expand your aerobic capacity. In addition to running more miles, most of your key workouts should be run at a sustainable aerobic effort. (i.e. Not crazy hard but not that easy, either.) If you're truly running at an aerobic effort, you can handle greater volumes of quality work. Period. 3. Better recovery. The harder you run, the longer you need to recover from such an effort. If you slow down most of your workouts a little bit, you won't do as much damage to your body, and you'll bounce back better as a result. (Which means you can train more consistently, and consistency is the glue that holds a sound training program together, and so on, and so on.)
Workout of the Week: Ks for Days
If you're training for longer races like half-marathons or marathons this fall, it behooves you to do regular work at or around threshold intensity, which, according to renowned coach and exercise physiologist Jack Daniels, is the effort you can race at for 50-60 minutes. For simplicity's sake, let's say this is a little slower than your 10K pace but faster than you can go for a half-marathon. These workouts require a lot of focus while improving the physiological and psychological endurance you'll need to race well at longer distances. One of my favorite threshold workouts is a bunch of 1-kilometer repeats with a short rest (30-60 seconds) in between intervals. We start at half-marathon pace if not a touch slower—better to start on the side of too slow than too fast—and get a little quicker as the workout goes on without ever going too crazy. Here are the details.
---
---
The bottom line.
"We have 5 choices in our life. We can be bad at what we do. We can be average at what we do. We can be good at what we do, which is probably God's expectation for whatever ability he gave us. Or we can be excellent. Or we can be elite. And everybody has a choice as to what they want to do and how they want to do that. But if you're going to be excellent or elite, you gotta do special things. You have to have special intensity. You have to have special focus. You have to have a special commitment and drive and passion to do things at a high level and at a high standard all the time. It doesn't matter what God-given ability that you have—that probably can make you good. But without the rest of it, I'm not sure you ever get excellent or elite and that's the part that we're trying to get to."
—Nick Saban, considered by many to be the greatest college football coach of all-time, on the 5 choices we have in life from this press conference​
---
That's it for Issue 405.Forward this email, share the web link, or reply to me directly at your own risk. (And if you're seeing this newsletter for the first time and want to receive it for yourself first thing every Tuesday morning, subscribe right here.)
Thanks for reading,
Mario
P.S. Looking for an affordable pair of shades to run in, drive, walk the dog, and do pretty much anything else that involves keeping the sun out of your eyes? Check out my favorite sunglasses from Goodr! They don't bounce, they don't slip, they're polarized to protect your eyes, and they come in a nice range of styles and fun colors. They're also the most affordable performance shades on the planet with most pairs costing only $25 to $35 bucks a piece. If you want to support my work, treat yourself to a pair of goodrs at goodr.com/MARIO and enter the code MARIO15 at checkout to get free shipping on your order. Your face will thank you!
​Join our community on Patreon and help keep the morning shakeout sustainable! For as little as a buck a week, you'll gain access to occasional exclusive content and other perks that pop up from time to time.
---