​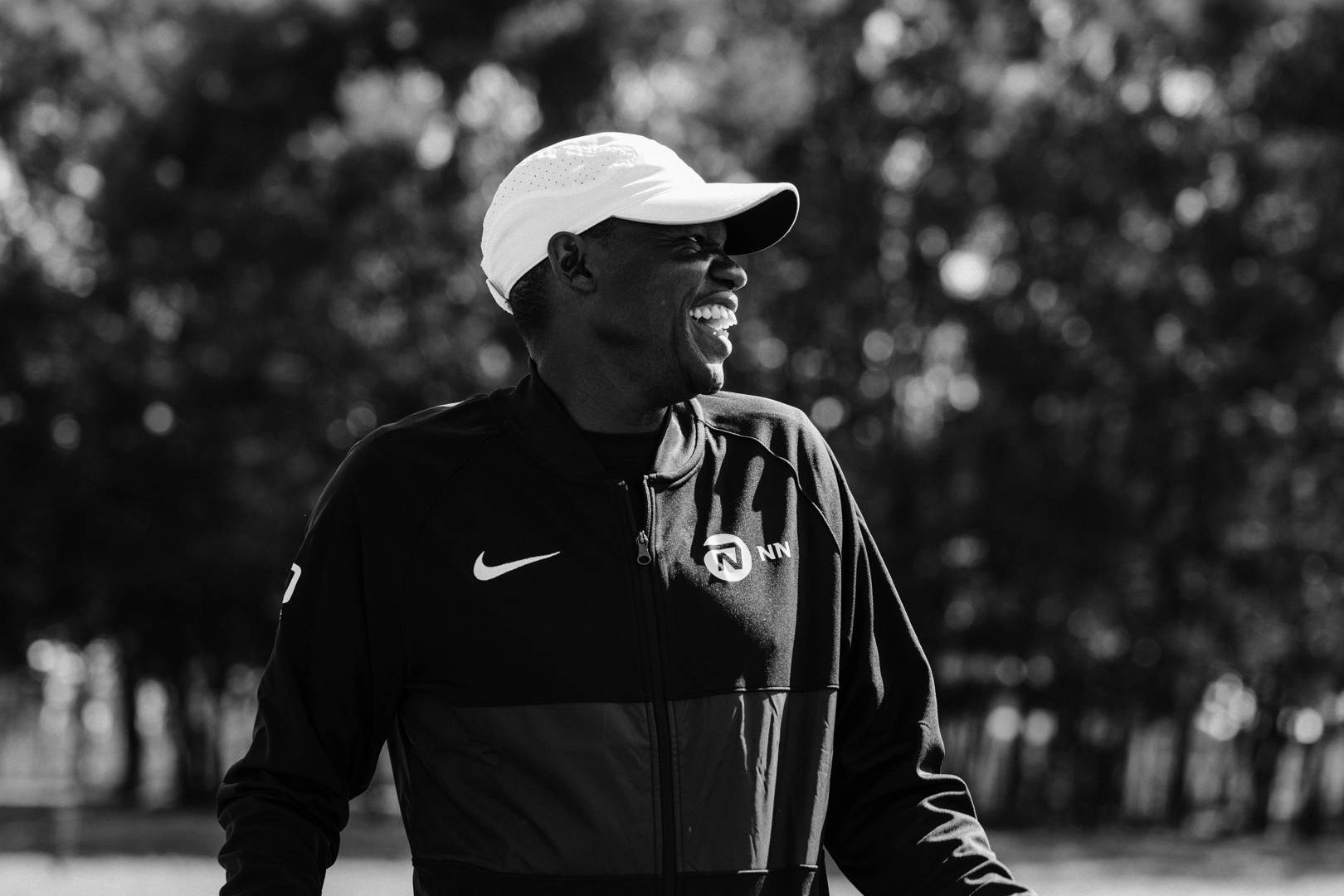 Good morning! I'm on vacation with my family celebrating my father-in-law's 75th birthday and prepared this week's issue a few days earlier than I usually do. What follows here is a throwback to the pre-podcast days when I would interview an athlete, coach, or writer, transcribe those conversations to text, and then publish it on the internet with some beautiful imagery embedded within those words. (n.b. If you enjoy this "Going Long" style of interview, and would like me to do more like it in the future, simply reply to this email and let me know.)
Below you'll find an excerpt of a recent exchange I had with Sarah Gearhart, author of We Share The Sun, which comes out today wherever books are sold. I received my copy a few weeks ago and devoured it in two days. It's part biography of Patrick Sang, the legendary coach of Eliud Kipchoge, Faith Kipyegon, Geoffrey Kamworor, and other distance-running superstars, and part behind-the-scenes peek of the inner workings of his training group based in Kaptagat, Kenya. I was fascinated to learn more about the architect responsible for multiple world records, major marathon wins and course records, numerous global medals, and other incredible competitive accomplishments. Coach Sang is a private individual but he opened up to Gearhart in a big way and she did a wonderful job painting a portrait of a man who is revered not only for the successes his athletes have experienced in sport, but also for his holistic coaching philosophy and the impact he has on the rest of their lives. In addition to telling Sang's story, Gearhart shines a light on many of his athletes, most of whom aren't well known beyond the races they've won or the times they've posted.
I loved this book and I think most of you will too. It's a great story full of intriguing characters, whether you're a fan of competitive running or not, and should be required reading for coaches at all levels of the sport.
Before we get to my interview with Sarah, I'd like to thank my partner New Balance for supporting the newsletter again this month (and my work throughout 2023). A little less than two weeks from now I'll be racing Boston in the new FuelCell SuperComp Elite v3. I'm not sure I've ever loved a racing shoe more. While the original and v2 versions of this shoe were both great, the v3 is next level with a reengineered upper and a propulsive carbon fiber plate sandwiched between a couple layers of lightweight, responsive foam. I've worn these puppies on multiple long runs and for two half-marathons thus far this spring and they're super smooth when you get up to speed—pretty much the perfect long-distance road racing shoe. Snatch 'em up for yourself now and be ready to rip come race day. They're available at your favorite run specialty retail store or on newbalance.com (men's sizes here, women's sizes here).
OK, please enjoy the following excerpt from my conversation with Sarah Gearhart (and be sure to check out the full interview right here on themorningshakeout.com).
Going Long: An Interview with Sarah Gearhart
What were your initial impressions when you arrived in the Rift Valley and showed up at training camp?
It's quiet. There's a lot of dirt, iron-colored dirt, and it gets all over your shoes. Everyone is really humble. Really, really humble. Where I was, the view, I was really close to the escarpment and that was really amazing to see. I found it really inspiring. It was a slower pace of life from what I'm used to, and I think what I appreciated the most was just how welcoming and kind people are, and communal. I think that's really typical of certain parts of Africa. I'm in South Africa right now, and that's really typical of the lifestyle. I just really appreciated it, because being in the U.S., people are really individualistic, and you just get a totally different vibe here and I really appreciated that.
One thing that really, really surprised me was that recreational running is not a thing at all there. I'm someone who runs, and I've been running for a really long time. My average run is 10 miles but I do it slow. There, no one goes out and runs for fun—it's because they want to make it a career. I remember one day I was running and a woman came up to me and joined me and she was jogging and she was like, "You guys in the U.S., you just run for pleasure, and we run for a job." And yeah, that's very true. I have never been in an environment where it was that serious—they're so extremely serious. No one listens to music, they don't talk. That's another thing, too. No one talks. It's not like you're running and you're catching up about life. It's so silent and businesslike and I really appreciated that. The perspective is so different. It was unique to see. And also the fact that with someone who's running 10 miles most days of the week, they're considered lazy in a way. I run once a day, everyone's running twice a day, and it's like, "You're running 10 miles. Good for you. Are you going to do more on top of that?" That's how I felt. That's kind of crazy.
So when you embedded yourself in the training camp and you're just being a fly on the wall, you're obviously paying close attention to everything, but particularly Coach Sang and how he goes about his day and how he's interacting with the athletes. At this point you probably had a decent understanding of how he was, but what were some of those initial observations when you first arrived and actually saw him do his thing?
It's funny, you can hear him laughing from across the field. There are occasions when he is really serious and there are occasions when he's chuckling all the time and he cracks a lot of jokes. I think I was kind of surprised to see that, because I was expecting all serious, all the time. But he's not always like that. It really depends on the workout. How calm he is when he talks to athletes. I think I used the word "athlete whisperer." He's just really calm in the way that he talks to athletes. I've definitely been around enough coaches where they scream and they curse, and he's not like that at all, so that was really nice to see. And everyone's responsive. They don't talk back to him. They're really respectful and they do what he says.
There's a pretty big group of athletes at camp, and Eliud Kipchoge is the most recognizable one. But you've also got Geoffrey Kamworor, you've got Faith Kipyegon—huge, huge names in the sport. As a coach myself, your relationship with every athlete is going to be a bit different. How is Coach Sang with some of those more recognizable athletes versus maybe some of the younger folks who were in camp? Did he treat everyone kind of the same?
One hundred percent. That was really nice to see. There's another camp across the street and they all kind of train together—even the junior athletes, he treats them all the same, and it's so nice to see. Everyone is equal. What I thought was really lovely too is that everyone has a nickname, and yeah, he's just really funny in using their nicknames. It was nice to see so many good successful athletes altogether without egos, because that doesn't ever happen. And this is mentioned in the book, but there aren't really workers at the camp—[the athletes] all take turns doing certain things. They'll do a hard run and they'll maintain the camp, which is also unique to see. Everyone has a responsibility.
What were some of your biggest takeaways? You're an experienced marathoner yourself. It's a big part of your life. You were running a lot while you were there. Kaptagat couldn't be any more different from New York City, which is your home base. What were some of the lessons and takeaways that you brought back with you and tried to implement into how you go about your day and how you approach the sport?
I hate to really admit this, but I don't do speed training. My marathon PR is 3:26 without speed training and I know better, because I also ran when I was in high school and college, but I know I need to implement that. I really want to implement that more when I train for another marathon.
I think one of the biggest takeaways is actually the mental component, the mental endurance. OK, so here's a story. In December 2021, there was a Thursday long run of 40K around Kaptagat, and it's a very hilly course. I think they actually run [at] over 8000 feet. There is a runner who is an 800-meter specialist and I think he was trying to lose weight, so he actually did the whole route. He ran 2:51, which is the equivalent of I think a 3-hour marathon, and he's an 800-meter runner. I was so impressed to see that and I even commented to Coach Sang, and he was like, "Yeah, it is in your head, the mental component." I have thought about that and replayed that training session in my mind throughout my runs, especially last summer when I was marathon training. I think about it in terms of what is actually really hard, it's in your head. If an 800-meter guy can go out and just run the equivalent of almost a marathon, and he can do it kind of casually, you have to think, whatever you have in front of you, it's actually really manageable and you can do it. So I think about it in terms of that: What does it actually mean to push yourself? If that makes any sense.
​Read the full interview on themorningshakeout.com.
Training Tip: Don't overcomplicate the taper!
There's more to lose in the last two weeks before marathon race day than there is to gain. Don't overcomplicate things (and don't over-do it!). Maintain the rhythm of your typical week, keep key workouts in the rotation (but keep 'em in check!), dial back the long run, and reduce your overall volume by 25-30 percent. Carve out some time to review your training and rehearse your race plan. Finally, don't cut back on your food intake, hydrate well, and rest your mind as well as your body. Remember: You're not just trying to get to the start line rested—you want to get there ready!
Workout of the Week
​The Mona Fartlek. As an athlete, the Mona Fartlek is one of my favorite workouts to do; as a coach, it's one that I'll often assign a few times throughout a training cycle. What I love about this session is that it's efficient and versatile: it can be done anywhere and you can make it as hard or an easy as you need/want it to be (to be fair, the same can be said of most workouts, but I digress). It's named after Steve Moneghetti, a four-time Olympian in the marathon for Australia, who ran this workout weekly for years (and still does, apparently). The pickups are short and swift and the recoveries in between are more of a steady float than a slow jog (though you manipulate either of those variables to suit your needs depending on your experience level or where you're at in training). Start to finish, the Mona Fartlek takes 20 minutes to complete. I like to use this workout with athletes who are just getting back into speedwork after some time away from it—the reps are short enough to wrap their heads around—or as a good "get after it" session for my marathoners to break up the monotony of higher mileage and longer workouts. The Mona Fartlek can also serve as a good 20-minute benchmark session every 4-6 weeks by simply comparing your total distance and overall average pace (and heart rate and power, if you're into those sorts of things) from one attempt to the next. Here are the details.
---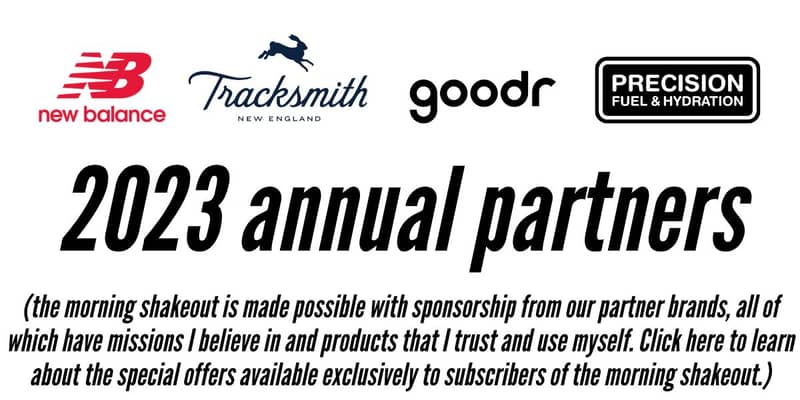 ---
The bottom line.
"Haba na haba hujaza kibaba."
—Swahili proverb meaning "little by little fills the pot," which I read for the first time in We Share The Sun
---
That's it for Issue 386. If you enjoyed this email, please forward it to a likeminded friend (or five!) and encourage them to subscribe at this link.
Thanks for reading,
Mario
​Join our community on Patreon and help keep the morning shakeout sustainable! For as little as a buck a week, you'll also gain access to exclusive content like The Weekly Rundown, my Patreon-only podcast with Billy Yang, a monthly "Coaches Corner" podcast, and other perks that pop up from time to time.
---